Cupid Gets His Man
[[|250px]]


Distributed by

RKO Radio Pictures

Directed By

Tom Palmer

Produced By

Amadee J. Van Beuren

Released on

July 24, 1936

Color by

TechniColor

Voices by

Carl "Alfalfa" Switzer, Edna May Oliver, W.C. Fields (all uncredited)
Cupid Gets His Man
was a 1936 animated short produced by
Van Beuren Studios
. The voices in the cartoon were provided by the
Our Gang
(
Little Rascals
) series. This was distributed to theaters by
RKO
on July 24, 1936.
Colonel Dan Cupid and his matchmaking babies bring together two very difficult people: a prudish spinster (Edna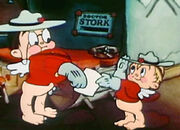 May Oliver) and a bulbous-nosed dyspeptic (W.C. Fields). When Cupid's young charge can't get the job of hitching the two done, the boss himself joins the battle. Cupid faces the toughest assignment of his career. It takes a whole battalion of cherubs to unite the cantankerous neighbors, who wage total war against Cupid and his brigade until at last, they are forced into matrimony.
Voice cast
Edit
This episode it's one of the ressuiededs from Commonwealth Pictures.
One source suggests that the spinster actually is a dead ringer for Margaret Hamilton (who later would gain fame as the Wicked Witch in "The Wizard of Oz").
This was the second and final cartoon to have voices provided by Our Gang actor Carl "Alfalfa" Switzer.
<youtube>oN8YWK1C7L0</youtube>